Maternitywear $75 Gift Certificate
Maternitywear $75 Gift Certificate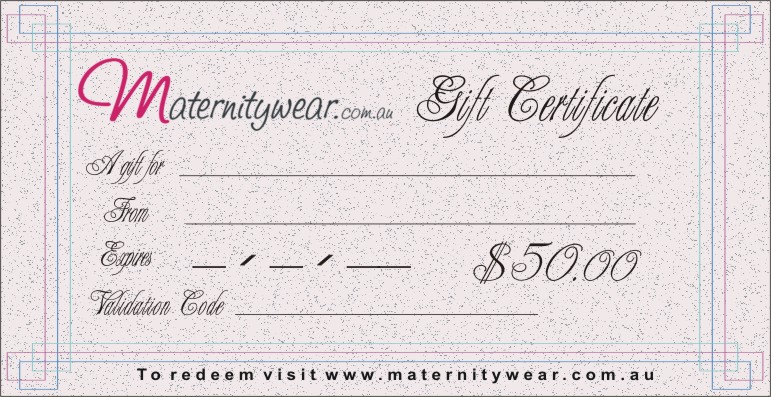 Maternitywear $50 Gift Certificate
Gift certificates are a wonderful way to show that special person just how much you care for her and how she is appreciated by family, friends, and work colleagues.
Being pregnant is a wonderful experience in any womans life and one you want remember especially involving family and friends and their thoughtfulness! We have a an extensive range of beautiful maternity clothing guaranteed to make any woman feel confident in her appearance and radiant throughout her pregnancy.
Our gift certificate may be printed and posted or presented to the the expectant mother and are available from as little as $25 to $100.
The gift certificate can be redeemed across the entire website,any item can be purchased even sale and special offers up to the face value of the gift certificate but they must be used in one transaction and with any additional balance paid by our sites normal payment facility with exception of bank transfer.
 
Please Note: If items are purchased to a lesser value than the gift certificate we are unable to refund or hold in any credit balance.
To process the gift certificate select any of our value certificates offered and proceed to checkout. Once your payment has been processed you will be directed to a new page advising the validation code and you can print out the gift certificate from this page so have a colour printer available to print. When printed the certificate will contain the expiry date and validation code. You will also be sent an email cofirmation with the validation code and expiry date. Once printed complete the details on the gift certicate and post or present to the receipent. To redeem certificate simply go to maternitywear.com.au and select any items they wish to receive up to the value of the certificate or if more is selected the balance can be paid at the checkout. At the checkout the enter the validation unique code and the value of the certifiate will be deducted from the value of the purchase.